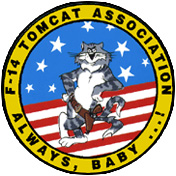 President's Message – Feb 2019
Dear Tomcat Flyers, Fixers, and Fans,
Greetings and Happy New Year! I hope you had a pleasant and restful holiday season.
As I reflect back upon 2018, I'm thankful for a great San Diego reunion (more on that later), and it occurs to me that it is important to reflect on where we've been as an Association. Starting with Art Martin's vision to form an F-14 Tomcat Association that would be similar to the Intruder Association, back around 2002, a small group of us formed an exploratory committee, drafted by-laws, and did the legal work to be a non-profit (Art Martin did most of that work). Finally, the first Board of Directors met and adopted the Association By-Laws at a meeting held 17 December 2003.
President – Mike "Rabies" Rabens, Capt USN (Ret.)

Vice President – Mark "Beaver" Swaney, Capt USN (Ret.)

Treasurer – Rob "Udog" Underwood, Capt USNR (Ret.)

Secretary – Art Martin, Grumman Employee and Tomcat Devotee
Art was the driving force for starting the association, and for 11 years was the driving force to reach out to people, to conduct bi-annual reunions, and to grow the group. Art was born June 20, 1945 in New York. He joined the Navy in 1963 and served honorably until 1967, then joined the Grumman Corporation, later Northrop Grumman. On July 7, 2014, at 9:20 p.m., the world lost a great man when Art passed away from complications of a surgery. His lovely wife Donna still lives in Camarillo California. We all miss Art – may he rest in peace.
Three of us original members are still on the board. I announced at this year's reunion that I will be stepping down as your President as soon as the next President is elected. We intend to hold elections early in 2019 as our by-laws require.