Dear Tomcat Flyers, Fixers, and Fans,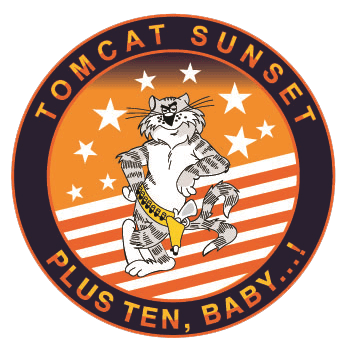 This year is the 10th anniversary of the Tomcat Sunset. The retirement of the world's most capable Fighter, and later Strike/Fighter, was a sad occasion for most of us, and the only way to commemorate such an event is to meet with fellow aficionados of this great aircraft. The 2016 reunions are fast approaching! Yes, that "s" at the end of reunions isn't a misprint – we are doing both an east coast and a west coast event this year. Details included below, but first let's step back and debrief 2015.
The Pensacola reunion in April came off beautifully, thanks to the hard work of several board members, particularly Mark "Beaver" Swaney. Highlights included:
Blue Angel practice show onboard NAS Pensacola, hosted by

Training Air Wing SIX Commodore, Captain Ted "Tag" Heflin and his amazing staff

Memorial Service at the Veteran's Memorial Park with the NAS Color Guard

Happy Hour and Panel Discussions to include T&E highlights, presented by Tom Reilly and Maintenance tales by many

National Naval Aviation Museum -- Guided tour of the Museum and Flight Academy

Winging ceremony in the Atrium

Banquet Dinner at the Mustin Beach Officer's Club
The speaker for the banquet was RADM Mike "Nasty" Manazir. Nasty is the Director, Air Warfare (OPNAV N98) where he is responsible for the development, programming, and budgeting of all U.S. Naval aviation warfighting requirements, resourcing and manpower. He was qualified in the F-14A/D and has flown more than 3750 hours and 1200 arrested landings during 15 deployments aboard aircraft carriers on both coasts. The talk was highly entertaining, extremely motivating, and left all with the satisfaction of knowing that Naval Aviation is strong, vibrant, and ready to defend American interests throughout the world. Thank you Nasty!