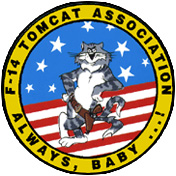 President's Message – August 2018
Dear Tomcat Flyers, Fixers, and Fans,
Greetings! We have three fantastic topics to describe in this newsletter, so please read all the way to the end.
In case you weren't aware, we are conducting our reunion in the same hotel and on the same weekend as the F-8 Crusader association. We are joining forces on some events, and have de-conflicted others to maximize your fun for the weekend. See details below.
Attention to brief – item#1. It is time to register for the 2018 Reunion in San Diego. Do not delay, do not procrastinate, just finish reading this and go to the F-14 Association website, click the Flight Schedule button, or use this link: http://www.f-14association.com/form/6-2018-tomcat-reunion-registration.html and sign up. You do not need to be a current member (but you know that you should be).
We have a fantastic plan for this year, at the beautiful San Diego Marriott La Jolla. You can book your room by clicking Hotel Registration Link or call (800) 228-9290 and ask for Group Reservations – F-14 Tomcat Group. Do not delay – the Hotel reservations and registration cutoff date is September 4, 2018.
General schedule:
Date

F-14 Tomcat Association

F-8 Crusader Association

Wednesday PM

Welcome reception – Ready Room at the hotel

Ready Room open

Thursday day

Tour of Midway

Free time

Thursday night

Gunfighter Happy Hour Reception

Friday Day

VIP Airshow Chalet – DOD day at Miramar

Friday Night

Banquet Dinner - RADM Fred Lewis

Squadron dinners

Saturday Day

Group Breakfast then Symposia:

-Fighting against the Tomcat – the Adversary Pilot panel led by Jim "Guido" DiMatteo

-Testing the Tomcat – Developmental and Operational Test stories

General Business Meeting

San Diego Air and Space Museum

Golf Tournament

High Tea for ladies

Board Meeting

Saturday night

Informal Squadron Dinners

Last Annual Crusader Ball