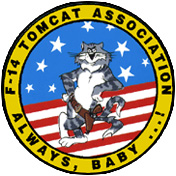 President's Message – Spring 2020
Dear Tomcat Flyers, Fixers, and Fans,
I hope you are staying safe and well during this trying time. Please read the entire message, but I'll get straight to the most important topic – Reunion 2020. Your board of directors created a wonderful plan for the 2020 Reunion . . . . . and then COVID-19 hit the stage. Our dates are still on the books for 20-22 August of this year, and you should have received a complete package of information and registration form from Carly Monteith (This email address is being protected from spambots. You need JavaScript enabled to view it.). However, as I write this we are evaluating postponing the reunion until April or May of 2021. Given the location near New York City, and the uncertainty over when public events will be allowed and advisable, we will make the final decision on postponement by mid-May and announce that via email, on our web page, on the F-14 Association Facebook page, and through emails from our Reunion Coordinator – "A Complete Reunion."
To register, please visit:
https://www.acompletereunion.com/f-14-tomcat
The flight plan will remain the same regardless of the dates:
Thursday
2:00 pm - 6:00 pm - Check in

3:00 pm - F-14 Ready Room open

6:00 pm - 7:30 pm - F-14 Association Welcome Reception in F-14 Ready Room
Friday
8:30 am - 12:30 pm - Tour #1 - Calverton Executive Airpark/American Airpower Museum

2:00 pm - 5:00 pm – Tour #2 - F-14 History Panels where Navy and Grumman executives and leaders will discuss the Tomcat

Development of the F-14: the early years

F-14: from Cold War to Hot War

5:30 pm - 9:00 pm - Cocktails and Banquet sponsored by the Cradle of Aviation Museum
Saturday
8:30 am - 4:00 pm - Tour #3 - Intrepid Sea, Air, and Space Museum

6:30 pm - Pizza Party in the Hospitality Room
A Brief History Lesson On The F-14
In July 1968, the Naval Air Systems Command (NAVAIR) issued a request for proposals (RFP) for the Naval Fighter Experimental (VFX) program. VFX called for a tandem two-seat, twin-engine air-to-air fighter with a maximum speed of Mach 2.2. It would also have a built-in M61 Vulcan cannon and a secondary close air support role. The VFX's air-to-air missiles would be either six AIM-54 Phoenix or a combination of six AIM-7 Sparrow and four AIM-9 Sidewinder missiles. Bids were received from General Dynamics, Grumman, Ling-Temco-Vought, McDonnell Douglas, and North American Rockwell; four bids incorporated variable-geometry wings.
Grumman's VFX entry was designed around the TF30 engine, AWG-9 radar, and AIM-54 missile intended for the F-111B; this eventually became the F-14A.
McDonnell Douglas and Grumman were selected as finalists in December 1968. Grumman was selected for the contract award in January 1969. Grumman's design reused the TF30 engines from the F-111B, though the Navy planned on replacing them with the Pratt & Whitney F401-400 engines under development for the Navy, along with the related Pratt & Whitney F100 for the USAF. Though lighter than the F-111B, it was still the largest and heaviest U.S. fighter to fly from an aircraft carrier, a consequence of the requirement to carry the large AWG-9 radar and AIM-54 Phoenix missiles (from the F-111B) and an internal fuel load of 16,000 lb (7,300 kg).
Upon winning the contract for the F-14, Grumman greatly expanded its Calverton, Long Island, New York facility for evaluating the aircraft. Much of the initial testing, including the first of many compressor stalls, took place over Long Island Sound. In order to save time and forestall interference from Secretary McNamara, the Navy skipped the prototype phase and jumped directly to full-scale development. The F-14 first flew on 21 December 1970, just 22 months after Grumman was awarded the contract, and reached initial operational capability (IOC) in 1973.
Final Flight Of The Tomcat
The final flight of a US Navy Tomcat occurred 4 October 2006 arriving at the American Airpower Museum at Republic Airport, New York. Felix 101, BuNo 164603, shut her engines down for the last time.
What Is Happening With The Board Of Directors
We need you! Even if you don't want to run for one of the elected offices, we could surely use your help on the board. Please consider volunteering! As noted in previous newsletters, we are looking for a leader to replace me as President, and following that, we are looking for a new Vice President to replace Mark Swaney. Mark and I, along with Rob "Udog" Underwood, are plank owners in the association and we need new blood. We need people with the energy and enthusiasm to keep the Association vibrant and alive.
The current Board of Directors is:
Captain Mike "Rabies" Rabens (USN Ret.) - President
Captain Mark "Beaver" Swaney (USN Ret.) - Vice President
Don Bowsher - Secretary
Captain Rob "Udog" Underwood (USNR) - Treasurer
Captain Jim "Crunch" Hineline (USN) - Fleet Representative
Dave "Hey Joe" Parsons - East Coast Representative
Commander Bryan "Spot" Kust (USN Ret.) - West Coast Representative
AMS2 Mike O'Brien - Maintainer Representative, West
AMS2 Tim Daugherty - Maintainer Representative, East
Vacant - Maintainer Representative, Central
Historian – William "Bill" Barto, Grumman
What Is Happening With The F-14 Monument
Lastly, I want to highlight the Monument being planned by a group of very motivated individuals led by RADM Fred "Bad Fred" Lewis and Bruce "Dog" Doyle who are ready to erect a monument to our beloved Tomcat at the Naval Aviation Plaza in Virginia Beach. This is the most current news from their web site:
NOTAM 23 MAR 2020

Dear Tomcat Monument Donors and Supporters:

It is with deep regret that we, the Board of Directors of the F-14 Tomcat Monument Association, reluctantly announce that the Dedication Ceremony scheduled for 13 May 2020 has been postponed due to the uncertainty of the current national situation. We know that this decision is disappointing and inconvenient for all who had planned to attend, but please understand that our decision was not made lightly and was, we believe, in the best interest of our whole community. This current action is a postponement and not a cancellation, and we are looking at conducting the dedication ceremony in the fall. Over the next few months please check back here periodically for amplifying announcements.

Forever, Baby!

RADM Bad Fred Lewis, USN (Ret)

President and Chairman, F-14 Tomcat Monument Association
The monument will be a beautiful and striking tribute to the F-14 and to the guys and gals who flew it and to the great maintainers who kept it flying. Plans are underway for additional monuments to be erected in San Diego and Pensacola Florida as well.
This is a worthy effort that the F-14 Association Board of Directors fully supports. Please see all the details at http://tomcatmonument.org/
Summary
There you have it. Please send us ideas, feedback, and articles for publication on the Association web page: http://www.f-14association.com/. And please consider volunteering for a position on the Board – we need you to keep the Association moving forward and growing. Many thanks.
Respectfully,
Mike "Rabies" Rabens
President, F-14 Tomcat Association
Always, Baby