by David "Bio" Baranek
From the time we began flying Tomcats in 1975, the Fighting Checkmates painted our aircraft tails with checkerboard rudders, horizontal stripes at top and bottom of rudders, and the air wing letters, NG. Around the canopy we painted a dark anti-glare panel, known as a "bandit stripe." Several people have asked about recently seen changes, so I offer the following comments.
Photo taken in Key West, Sep 1996

In July 1996, outgoing Commanding Officer CDR Gerry Beaman announced at his change of command that he was adding a "check-mark" to the center of the tail. This served two purposes:
Honored the soon-to-decommission Fighting Renegades of VF-24, long-time sister squadron of VF-211. Many VF-24 personnel joined VF-211 to complete their prescribed sea duty. VF-24 decommissioned in August 1996.
Recalled one of the tail designs VF-211 had used while flying F-8 Crusaders in the 1960s.
Each squadron was allowed to paint 2 aircraft in color. On these aircraft the check-mark was red, outlined in dark blue; the horizontal stripes were red, white, and dark blue; rudder checkerboards were red and white. The bandit stripe was dark blue. On the remainder of our aircraft, the markings were dark gray. We painted NG100 and NG101 in color; some photos show other side numbers in color, since side numbers occasionally changed as aircraft were transferred in or out of the squadron.

The next C.O., CDR J. D. Oliver, did not change the tail design during his tour as C.O.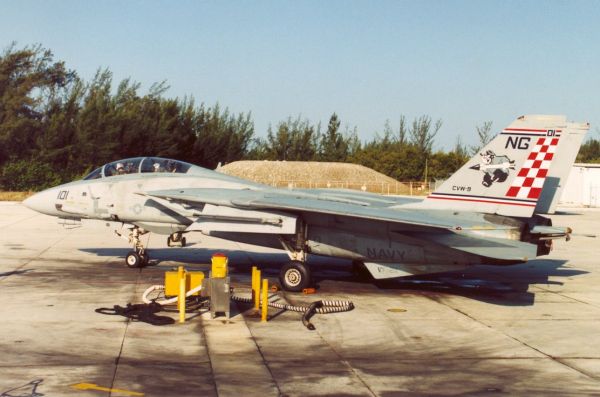 Photo taken in Key West, May 1998
Shortly after I became C.O. in August 1997 we went on deployment. In September I directed that the check-mark be removed, so the design reverted to VF-211's traditional Tomcat design. Since the squadron was deployed during the Christmas Holidays, we painted a Christmas-theme design on the tails of NG101. During the 1995-96 deployment this had been "the Grinch" cartoon character. For 1997-98, it was the character from squadron logo, dressed in a Santa Claus suit. Noting the high quality of this tail design (applied by AMSAN Mike Kreisher, under the supervision of AMS1 Patricia Shannon), I directed that the character from the squadron logo be applied to NG101's tails upon return from deployment.
Photo: December 25, 1997 during an Operation Southern Watch mission over Iraq. VF-211 F-14A BuNo 161856

In March 1998 COMFIT-WINGLANT further standardized paint schemes on Tomcats, eliminating anti-glare panels and limiting squadrons to painting one aircraft in color. Many squadrons painted their "CAG bird" in color, but I had my jet (NG101) painted in color, with the logo character.

CDR David Baranek, USN July 1998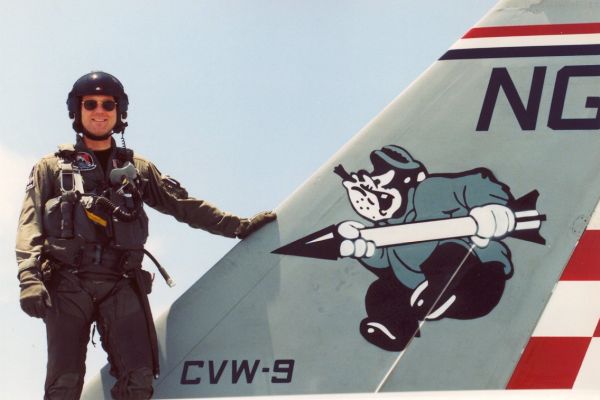 Photo: CDR Baranek