by William C. Barto (Grummam Memorial Park Historian and museum associate, Cradle of Aviation Museum)
In this first installment of Tomcat Tales we will discuss briefly the third pre-production F-14. Several things make this particular Tomcat significant. First, it is the oldest surviving F-14 in the world. Second, it is currently on display at the Cradle of Aviation at Mitchel Field, Long Island.
No. 3 first flew on December 28, 1971 with Grumman Test Pilots Don Evans (pilot) and Dennis Romano (Weapon Systems Officer). Operating out of the Grumman Flight Test Facility at Calverton, New York, No 3 was primarily used for determining the entire structural envelope for the F-14 and investigating certain flight characteristics under extreme conditions.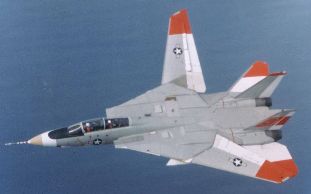 One of these was in response to concerns raised by the US Navy regarding asymmetrical wing sweep. No. 3 is best remembered for photo shown at right. A series of flight tests were conducted from December 19, 1985 to February 28, 1986. Grumman's Chief Test Pilot, Chuck Sewell, conducted several trials with the right wing locked in the forward position of 20 degrees, and positioned the left wing at 35, 50, 60 and 68 degrees of sweep in flight. 60 degrees was determined as the maximum for landing. In the event of an operational in-flight malfunction, Sewell found the aircraft to be acceptable for carrier landings in this configuration.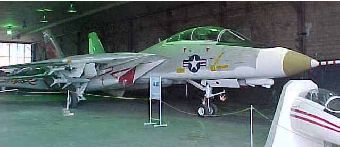 Tomcat No. 3 flew for the last time in 1990. Acquired by the Cradle of Aviation Museum in 1995, No. 3 is shown here on display in Hangar 2. It is also interesting to note that Tom Gwynne, Vice President for External Relations for the "Cradle", and Grumman Test Pilot No. 72, flew No. 3 on several occasions.
Photos courtesy of the Grumman History Center (2) and William C. Barto (#3 in hangar)