BuNo 164603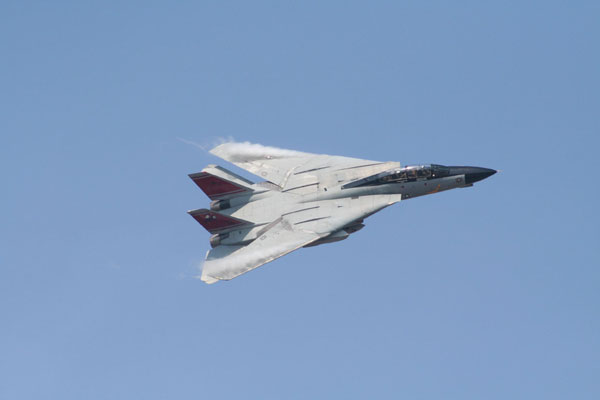 Final break for landing at Republic Airport, Farmingdale, Long Island, NY. (Photo courtesy of Joe Wilkers)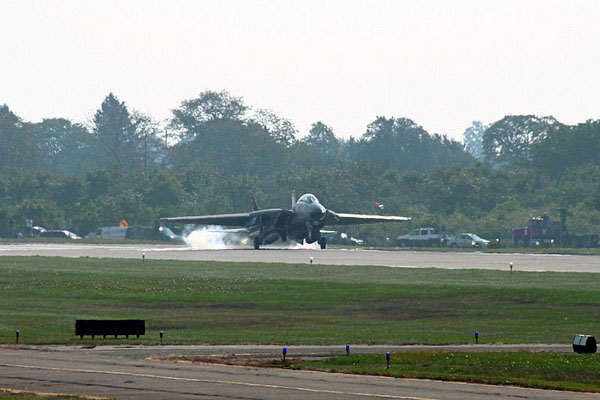 Final Tomcat Landing 4 October 2006 - the end of an era. (Photo courtesy of Joe Wilkers)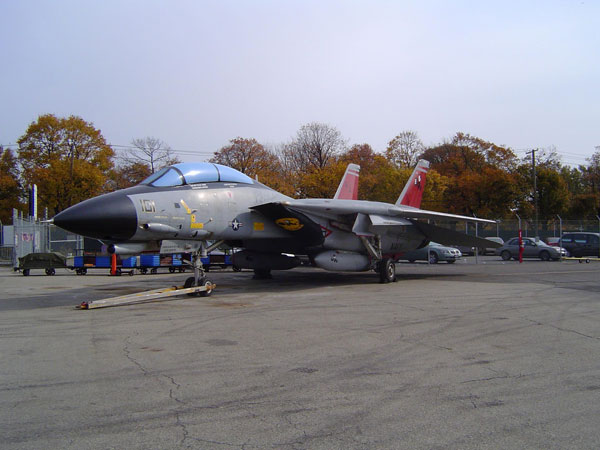 On display at her temporary home at the American Airpower Museum. Thanks for taking good care of our Tomcat. (Photo by Bill Barto)



On the road from Farmingdale to Bethpage. (Photo by Fred Miller, Long Island Wallpaper.com)



Final build-up at Bethpage. (Photo by Fred Miller, Long Island Wallpaper.com)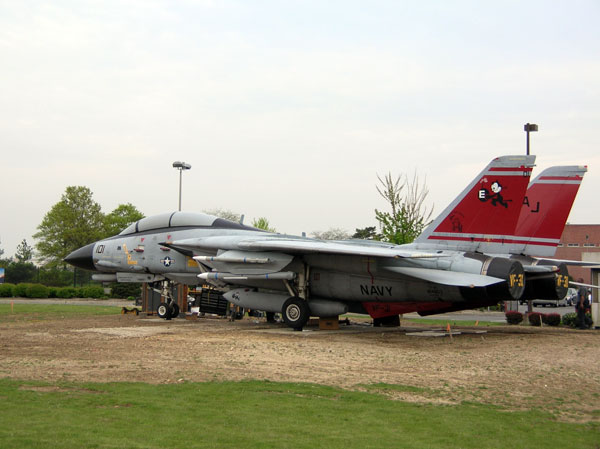 Final build-up at Bethpage. (Photo by Frank O'Brien)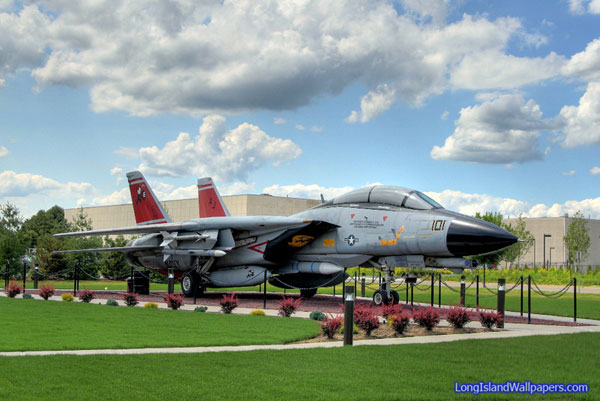 On display at Northrop Grumman, Bethpage, NY. (Photo by Fred Miller, Long Island Wallpaper.com)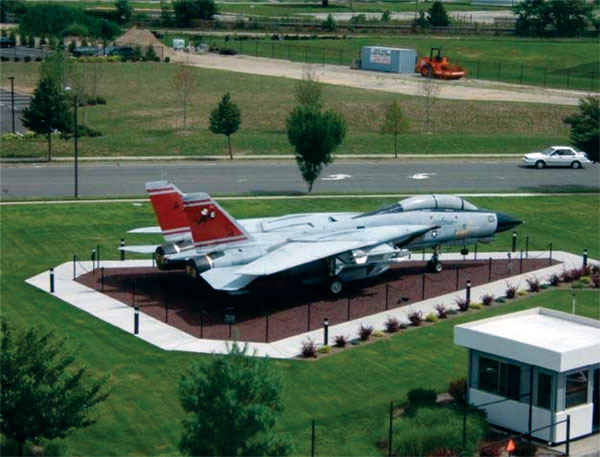 Final Display. (Photo courtesy of Northrop Grumman Corporation)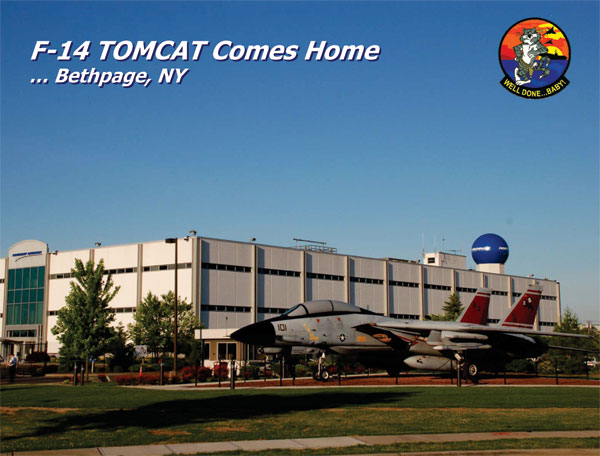 Final Display Northrop Grumman Plant 25. (Photo courtesy of Northrop Grumman Corporation)
Dedication Plaque
F-14 Tomcat
"Honoring Our Legacy … Celebrating the Spirit of Innovation … Inspiring Our Future"
First Flight: December 21, 1970 ~ Bob Smyth / Bill Miller ( Grumman Corporation )
Final Flight: October 4, 2006 ~ LCDR Chris Richard / LCDR Bob Gentry ( Fighter Squadron 31 )
On December 21, 1970, at Grumman Corporation's flight test center in Calverton, NY, company test pilots Bob Smyth and Bill Miller started the F-14 Tomcat on a 36-year journey to faithfully serve our country. On October 4, 2006, after over-flying Calverton and the Northrop Grumman facility in Bethpage, NY, LCDR Chris Richard and LCDR Bob Gentry brought that journey to an end here at the Tomcat's Long Island birthplace.
During its distinguished career, the Tomcat supported the withdrawal from Vietnam, became famous in one-sided encounters with enemy fighters, intercepted terrorists in the skies over the Mediterranean, and contributed immeasurably to the war in Southwest Asia on its final deployment. The Tomcat even became a Hollywood star in the movie "Top Gun."Many current and former employees share a personal attachment to this great aircraft. Designed, built and flown in just two years, the Tomcat is considered by many as the finest fighter to ever fly in our nation's defense. Even today, the F-14 is still seen as one of the most elegant aerodynamic designs in aviation history.
This F-14D is number 711 of the 712 Tomcats built, and the last Navy Tomcat to ever fly. Delivered to the Navy on May 29, 1992, it completed its 14 years of service with VF-31, the last F-14 squadron. This proud aircraft has now returned home to Long Island to become an enduring symbol of the spirit of innovation and teamwork, and to serve as a lasting reminder of the importance of what Northrop Grumman employees do every day to provide for our men and women in uniform.
For 36 years the F-14 Tomcat served our nation with honor, grace and unmatched capabilities. Our enemies feared its power and our nation's warfighters took great pride and comfort in knowing the Tomcat was "on-station" protecting freedom. Now, this last F-14 is "on-station" here, honoring past and present employees for their great contributions to this country, and inspiring future generations of Northrop Grumman employees to passionately achieve new levels of innovation in the continuing effort to provide our nation's warfighters with the unmatched capabilities they need to defend freedom.
"It is truly a comfortable feeling when I man the aircraft and look down at the rudder pedals and it says Grumman
… I know that I am going to make it back."
Commander James "Puck" Howe, Commanding Officer, Fighter Squadron 31 (last F-14 Squadron)