Ronald Reagan and the Tomcat
Two of the most famous F-14 headline making events occurred during the Reagan Presidency. On 8/18/81, early in President Reagan's 1st term, two F-14s from the VF-41 Black Aces flying off the USS Nimitz (CVN-68) shot down two Libyan Su-22 "Fitters" over the Gulf of Sidra. The second event had a similar outcome. In the final days of the Reagan administration, two F-14s from the VF-32 Swordsmen shot down two Libyan MiG-23 "Floggers" on 1/4/89. To honor these events in the Reagan Presidency, the Reagan Presidential Library obtained an F-14 for display on the library grounds. Unfortunately, the actual aircraft involved in the shoot downs were not available so the F-14 obtained by the Library was painted to represent BuNo 160403 flown by the late CDR Hank Kleeman and LT David Venlet in the 1981 event.
The actual Tomcat displayed at the Library is BuNo 162592. This aircraft was delivered to the Navy 1/22/86 and served with VF-1, VF-21, VF-154, and finally the Naval Strike and Air Warfare Center (formally TopGun).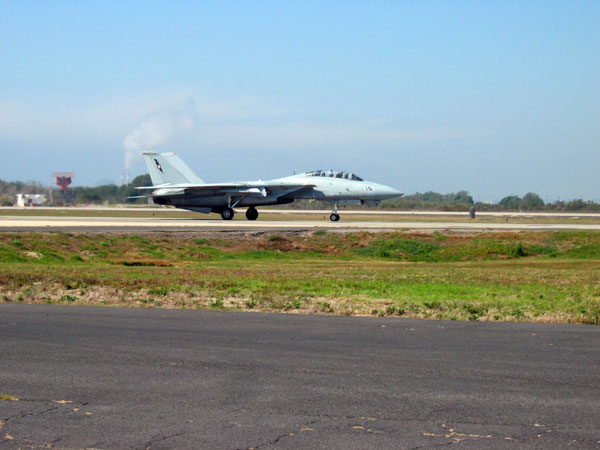 10/17/03 - Aircraft arrives at NAS Pt. Mugu, CA from NSAWC, Fallon, NV. (Photo via Reagan Library)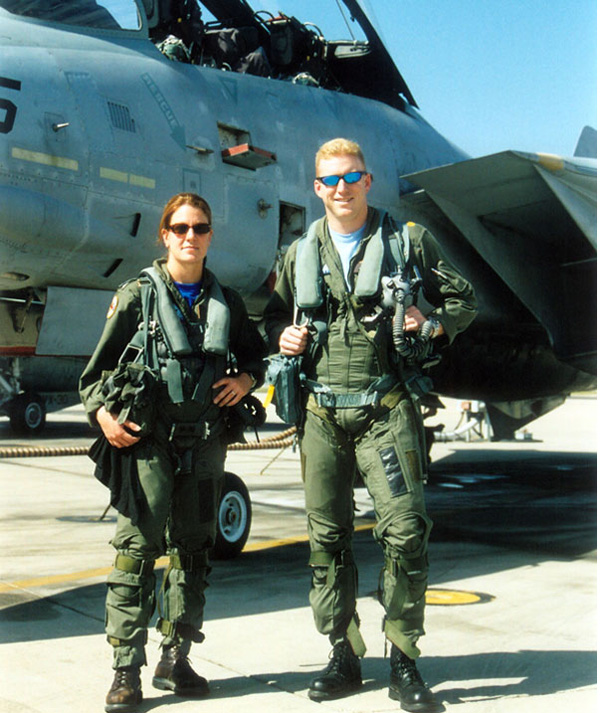 10/17/03 - Delivery crew from NSAWC, LCDR Charles "Scotty" Brown (r) and RIO LT Natalie "JJ" Good. (Photo by Craig Kaston)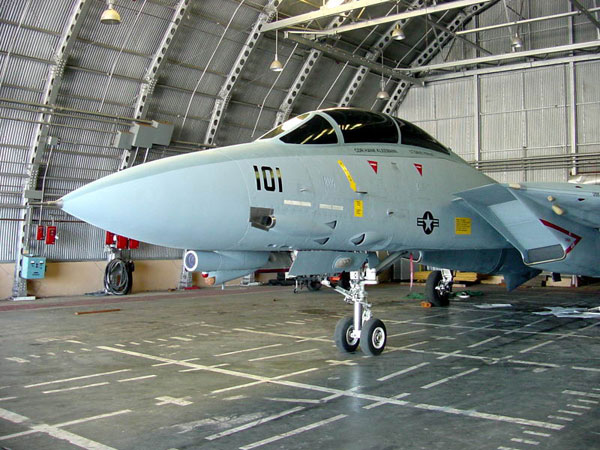 A fresh coat of paint thanks to the volunteers from VFA-2 who came down from NAS Lemoore. (Photo by Craig Kaston)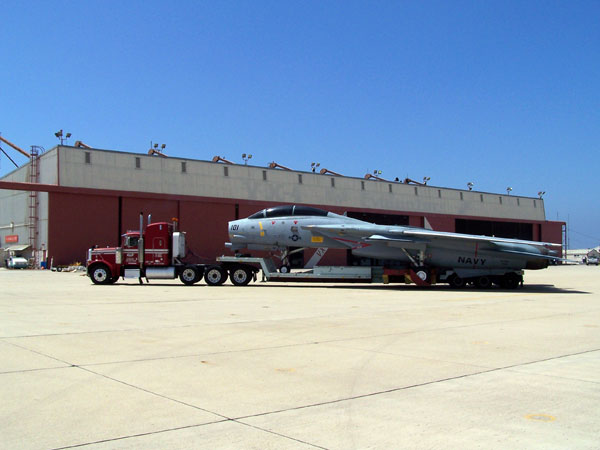 8/19/05 - Loaded up and ready for the 30 mile trip from Pt. Mugu to the Reagan Library in Simi Valley, CA. (Photo by Craig Kaston)

8/22/05 - On the Library grounds and rigged for the flight to the final display site. (Photo via Bill Stevens)

8/22/05 - In-flight over several obstacles on the road to the display site. (Photo via Bill Stevens)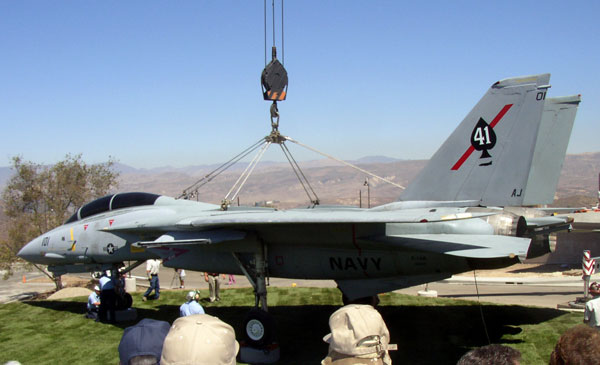 8/22/05 - "OK 3-wire" landing aboard the display site. (Photo via Bill Stevens)

Click here for the text of the speech given at the dedication ceremony by
Vice Admiral David Venlet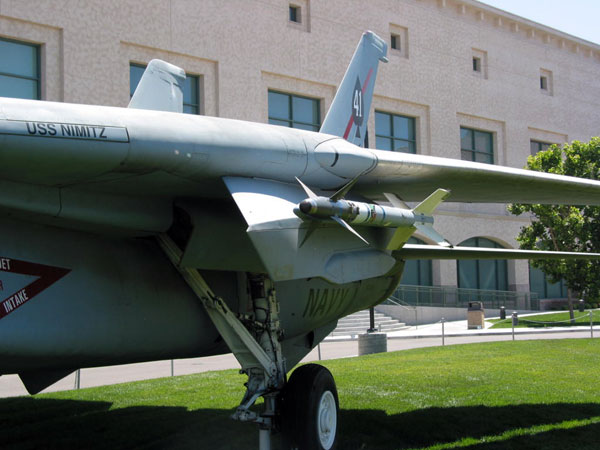 6/23/07 - AIM-9 Sidewinders installed. (Photo by Bob Markart)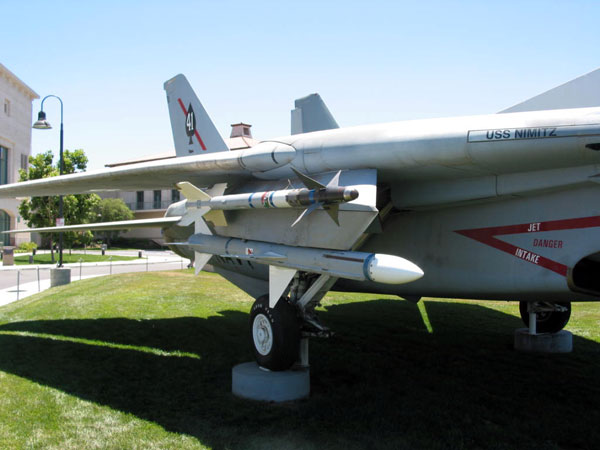 6/30/07 - AIM-7 Sparrows loaded. (Photo by Tom Reilly)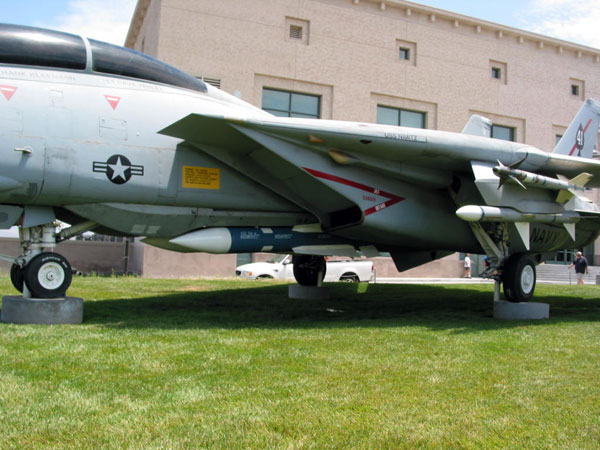 7/14/07 - Two AIM-54 Phoenix on board. (Photo by Tom Reilly)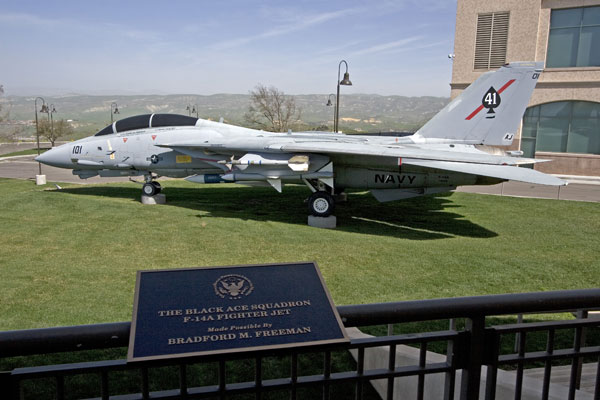 3/2/08 - F-14 Tomcat on station overlooking the Simi Valley (Photo by André Jans)