National Air and Space Museum's Steven F. Udvar-Hazy Center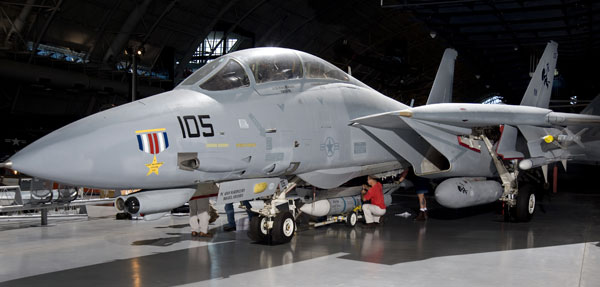 Photo courtesy of the Smithsonian National Air and Space Museum
BuNo 159610 was originally manufactured as an F-14A and was delivered to the Navy on 8/19/75. As an F-14A the aircraft served with VF-11 and VF-32. While serving with VF-32 as Gypsy 207, this Tomcat was credited with a MiG kill. On 1/4/89, near the Libyan coast, two VF-32 F-14As flying from the USS John F. Kennedy (CV-67) engaged a pair of Libyan MiG-23 Floggers. During a lengthy six- to eight-minute air battle, the MiGs continued to threaten the Tomcats and finally, after several attempts to evade the MiG radar threat, the incoming pair of MiG-23s was declared hostile and the F-14 crews were cleared to engage. The crew of the lead F-14A, Gypsy 202 fired an AIM-7 Sparrow missile which did not strike its target, while the second F-14A's, (BuNo. 159610) AIM-7 found its target destroying one of the MiG-23s. The lead F-14 re-engaged the remaining MiG-23 firing an AIM-9 Sidewinder heat-seeking missile which detonated in the tailpipe of the Flogger.
The aircraft was re-manufactured to an F-14D and returned to the Navy on 11/29/91 were it served primarily with the Tomcatters of VF-31. While with VF-31, the aircraft participated in the longest Tomcat cruise. The cruise on board the USS Abraham Lincoln (CVN 72) begin on 7/20/02 and on its scheduled return to the US, it was diverted to the Gulf to participate in "Operation Iraqi Freedom". The cruise finally ended after almost 10 months on 5/6/03.
The aircraft now resides at the National Air and Space Museum's Steven F. Udvar-Hazy Center near Dulles airport.