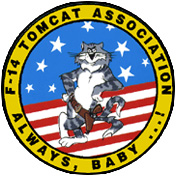 Dear Tomcat Community,
I hope you are well during our journey to the new COVID-19 normal. Please read the entire message, but I'll get straight to the most important topic – Reunion 2020. Your board of directors has decided to delay the reunion and celebration of the 50th anniversary of the first flight of the Tomcat until April or May of 2021. We want to have a first class event that everyone can enjoy, and travel to the Long Island area in August simply wasn't going to allow as many people to participate as this noteworthy milestone deserves. I can promise you that we are working hard to re-create an event that you will want to participate in next spring.
What Is Happening With The F-14 Monument
The Tomcat Monument will be installed in the Naval Aviation Monument Park on the Virginia Beach Boardwalk during the day on TUES 30 June.
They have tentatively rescheduled the official Dedication Ceremony for Wednesday, 30 September 2020 with the Happy Hour on Tuesday, 29 September 2020, dependent on future travel restrictions in place. Information on both events will be posted as soon as possible to aid in travel plans.
Interesting Tomcat Web Sites
F-14 Monument Association -- https://tomcatmonument.org/
Home of M.A.T.S. by Torsten Anft -- http://www.anft.net/f-14/index.htm
F-14 Facebook Page -- https://www.facebook.com/groups/f14association/
What Is Happening With The Board Of Directors
Marc Arnold has joined the Board as the Central Maintainer Representative position. Marc was an AE2 with VF-1 from 1978 - 1980 and participated in the squadron's '78 WestPac cruise aboard Enterprise and their '80-81 cruise aboard Ranger. After active duty, he was employed with Northrop Grumman and retired from a long and productive career in aerospace. Please join me in welcoming Marc to the Board.
We are actively seeking candidates for the role of President and Vice President. If interested, please reach out to me at either:
This email address is being protected from spambots. You need JavaScript enabled to view it. or This email address is being protected from spambots. You need JavaScript enabled to view it.
The current Board of Directors is:
Captain Mike "Rabies" Rabens (USN Ret.) - President
Captain Mark "Beaver" Swaney (USN Ret.) - Vice President
Don Bowsher - Secretary
Captain Rob "Udog" Underwood (USNR) - Treasurer
Captain Jim "Crunch" Hineline (USN) - Fleet Representative
Dave "Hey Joe" Parsons - East Coast Representative
Commander Bryan "Spot" Kust (USN Ret.) - West Coast Representative
AMS2 Mike O'Brien - Maintainer Representative, West
AMS2 Tim Daugherty - Maintainer Representative, East
AE2 Marc Arnold - Maintainer Representative, Central
Historian – William "Bill" Barto, Grumman
Summary
There you have it. Please send us ideas, feedback, and articles for publication on the Association web page: http://www.f-14association.com/. And please consider volunteering for a position on the Board – we are looking for officers and creative people to help with communications, event planning and execution, outreach, etc. Bottom line -- we need you to keep the Association moving forward and growing. Many thanks.
Respectfully,
Mike "Rabies" Rabens
President, F-14 Tomcat Association
Always, Baby